This add-on provides a separate Send later button in the compose window.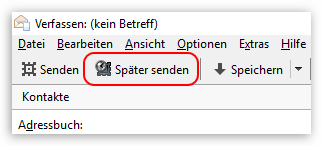 The add-on provides no new or own functions. The button is just an easy-to-reach way to send later.
You can use the Submit Later button with the standard Thunderbird. Then your messages will be stored in folder "Outbox" for later sending. If you also use the "Send later" add-on (by jikamens), the button will bring up the related dialog box with the option to send later.
1
Download
The download can be found on "ATN (addons.thunderbird.net)": Download
2
Installing & adding the button
Install the "Send later button" extension as is usual with add-ons.
3
Localization
3.1
Supplied languages
The add-on does not require a translation yet, as the language elements are provided by Thunderbird itself. But there is a one liner description (used in the add-ons manager dialog), which should be localized.
3.2
Create and improve localization
The add-on localization can be done on the Crowdin localization platform (starting in November 2019). Please, no longer use BabelZilla for the translation, as it is no longer compatible with current add-ons from Thunderbird 68 and newer.
4
Version history
4.1
Version 1.5.2
Supports Thunderbird 67.0 Beta 3 and later versions (the upcoming Thunderbird 68)
4.2
Version 1.3.1
Icon of the button is now displayed again in the Customize dialog of the toolbar in Thunderbird 60 Beta and newer.
4.3
Version 1.3
Supports Thunderbird versions 58+
New SVG icon for the button. This is now also used as an icon for the add-on itself in Add-on Manager and AMO:


4.4
Version 1.1
The button will now be automatically added to the Tools toolbar of the authoring window when the authoring window is first opened with the add-on installed.
Skins (icons) for Seamonkey classic and modern have been added.
4.5
Version 1.0.1
A typo in the description within Add-on Manager has been fixed.
4.6
Version 1.0
First release of the add-on
5
See also