The add-on was known as "MagicSLR" until version 4.0.1 and has now been renamed to "Get/Send Button", because all functionality to send later was removed. The button still allows the manual sending of messages from the outbox, but messages are no longer sent automatically at the end of the program. The add-on now focuses on its original basic function.
1
Download
The download can be found on "ATN (addons.thunderbird.net)": Download
2
Buttons and their functions
The current version offers you several buttons which you can insert into Thunderbirds main toolbar.
Open View ➔ Toolbars ➔ Customize... or ➔ Settings ➔ Customize Toolbars... to add buttons that are not yet in your main toolbar.
You will find the following buttons provided by this add-on:
2.1
In the main window (3-Pane-Window)
Get/Send
This button contains all the important functions which can be accessed via the context menu (by clicking on the small arrow). What should happen when clicking on the button itself, you can configure. Go to

Extras ➔ Add-ons... ➔ Extensions

, select "Get/Send Button" and right-click. In the context menu, select

Settings...

.

3
Options
To configure the Get/Send button and set the behavior for outbox messages, go to Tools ➔ Add-ons... ➔ Extensions, select Get/Send Button and click on Settings....
3.1
Button Functions
Clicking on the

Get/Send

button retrieves messages from all accounts or just the current account, depending on the setting. You can also set whether to retrieve accounts whose passwords have not yet been saved. The missing passwords will be asked for if necessary. If you select by default that messages should only be retrieved from

Current Account

, you can still later use

Shift

+ Click to get messages from all accounts.
3.2
Passwords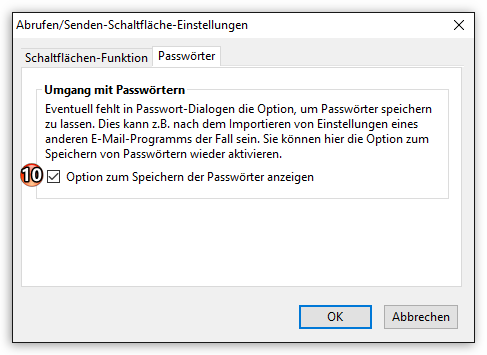 4
Translation into other languages
4.1
Supplied languages
The add-on has been translated into about 25 languages so far. But some translations are not completely up to date.
4.2
Create and improve translation
Translations of the add-on to other languages can be created and improved on the BabelZilla translation platform.
5
Version history
5.1
Version 5.6.1
Supports Thunderbird 67.0 Beta 3 and later versions (the upcoming Thunderbird 68)
5.2
Version 5.3.1
Icon of the "Send all" button is now displayed again in the Customize dialog of the toolbar in Thunderbird 60 Beta and newer.
5.3
Version 5.3
Supports Thunderbird versions 58+ (add-on settings dialog).
New, additional SVG icon in the button's drop-down menu. This is now also used as an icon for the add-on itself in Add-on Manager and AMO.
5.4
Version 5.1
Minor internal customization to support Thunderbird from version 57+.
The text "(reduced MagicSLR)" has been removed from the title of the add-on.
5.5
Version 5.0.3
Bugfix: This update restores the functionality in Thunderbird 52. This was necessary because in Thunderbird 52 internally an outdated interface for accessing the settings was removed.
5.6
Version 5.0.2
Add-on has been renamed to "Get/Send Button".
All automatically functions to send later have been removed.
SVG icons are used, as far as already available in Thunderbird.
6
See also