Um Rückfragen vorzubeugen, bitten wir um folgende Angaben:

Thunderbird-Version: 52.6.0 (32-Bit)
Betriebssystem + Version: Windows 7 Prof.
Kontenart (POP / IMAP): IMAP
Postfach-Anbieter (z.B. GMX): eigener Postfix Server
Eingesetzte Antiviren-Software: keine
Firewall (Betriebssystem-intern/Externe Software):
Router-Modellbezeichnung (bei Sende-Problemen):
Hier können Sie Ihren Text schreiben:

Ich bekomme jeden Tag viele Spam-Mails. Meine gmx.de Adresse erscheint dabei immer im Kopie (CC) neben ca 15-20 anderen
gmx.de Adressen. Es scheint so, daß die gesamten gmx Adressen gehackt wurde. Bei gmx.de habe ich eine Weiterleitung zu
meinem eigenen Postfix Mail Server. Im Mail Header gibt es zwei Received Einträge:
Received: from mout-xforward.gmx.net (mout-xforward.gmx.net [82.165.159.14])


	by xxxx.org (Postfix) with ESMTPS id 04E3AD816C


	for <raith@xxxx.org>; Tue,  6 Mar 2018 06:39:11 +0100 (CET)


Received: from travess.bitemotifspill.eu ([192.140.21.234]) by mx-ha.gmx.net (mxgmx015 [212.227.15.9]) with ESMTP (Nemesis) id 1MYfQn-1fErPx1Ckd-00VpxI for <dxxx.xxx@gmx.de>; Tue, 06 Mar 2018 06:39:10 +0100
Gemeinsam für alle diese Mails gilt, daß der erste Mailer immer aus Südamerika stammt. Der zweite Mailer ist der von gmx, welcher die Weiterleitung von gmx zu meinem Postfix macht.
Ich habe folgenden Filter aufgebaut: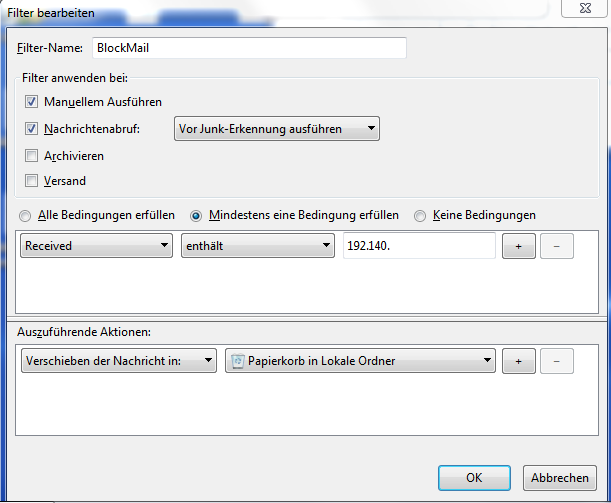 Dieser funktioniert aber leider nicht.
Wer weiß Rat?
Gruß
Dieter Raith