Probleme mit Google-Diensten
If you suddenly cannot receive any more emails
Please read the notes on the latest two most common causes of problems!
Please click here!
This red box disappears when you click on the X in the top right corner.
Thunderbird hat momentan ein technisches Problem mit dem Login-Prozess per OAuth in die Google-Konten. Die meisten Benutzer erleben dieses Problem, wenn die Verbindung zu einem der Dienste (Mail, Kontakte, Kalender) mit Thunderbird selbst oder mit einem Add-on neu eingerichtet werden soll oder wenn das Passwort geändert wurde und in Thunderbird dann neu einzugeben ist.
Betroffen scheinen sowohl ältere Thunderbird-Versionen als auch die ganz aktuellen Versionen bis hin zu 68.2.0 zu sein.
Sobald Thunderbird 68.2.1 bzw. 60.9.1 zur Verfügung steht, sollte man auf diese Versionen aktualisieren. Damit ist das Problem behoben. Der folgende Tipp sollte dann nicht mehr angewandt werden bzw. evtl. wieder rückgängig gemacht werden.
Für die Übergangszeit kann man das Problem kurzfristig beheben, indem man in Thunderbird den Konfig-Editor benutzt und dort die versteckte Einstellung general.useragent.compatMode.firefox auf true umschaltet.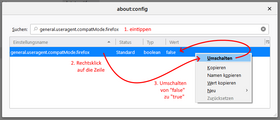 Anschließend funktioniert der Login zu den Google-Diensten wieder.
Zur Referenz:
Update - 31.10.2019:
Thunderbird steht inzwischen in Version 68.2.1 zur Verfügung, womit das Problem behoben ist.